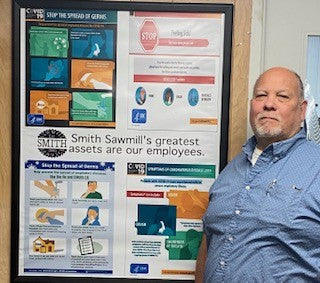 COVID – 19 Virus and getting back to normal.
Message from Smith Sawmill Service regarding COVID – 19 Virus and getting back to normal.
During this pandemic we pray that your companies, your employees, and their families have managed to stay safe. SSS proudly recognizes our wood industry for not only standing strong, but also adapting in ways which has kept our supply lines to our customers and citizens strong. Our wood industry may be small compared to others, however it is as important as any. The trucking and shipping industry depends on the pallets our mills provide, and all consumers look to our industry for everyday paper products. And above all, our industry provides the crucial materials to build and expand hospitals, nursing homes, and so much more that continues to keep America strong and healthy.
SSS is grateful we have been able to continue our essential services supplying your mills with your absolute needs since day one of the Presidential order. We have learned a lot in these last five weeks including safe distancing and keeping our products, tools, fleet, as well as ourselves clean and sanitized. SSS has taken all measures to ensure we abide by all safe practices. 
 May 4, 2020, SSS salesmen will go back to serving you in full capacity. As we begin to move forward to normalcy, we will as always continue to respect the rules our customers have set in place. Together we can make this work. We will continue to keep safe while growing our businesses. Our offices and manufacturing plants in Texas and Louisiana will remain cautious by practicing safe distancing, sanitizing, and wearing face masks. Using these same precautions, we will now allow visitors by appointment in both locations. 
 SSS wants to thank all of our customers for not only your business, but also your support and help that has provided us a way in keeping supply lines open in this new normal.