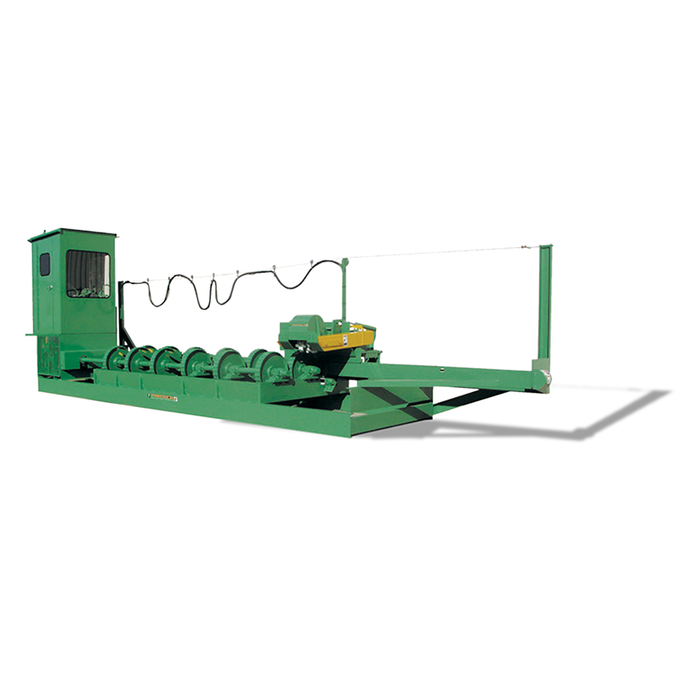 Precision Rosserhead Debarker
SKU
PRECISION-ROSSERHEAD-DEBARKER
CAPABILITIES
Steel cutterheads are heavy duty reinforced steel cylinders with welded depth rings and bolt on cutter bit holders. Depth rings prevent excessive fiber removal and damage to head. 
A stand-alone cab is available. It maximizes visibility for operation of other equipment. It also eliminates vibration to operator. Easily accessible seat and controls are standard on all models. Seat adjusts forward or backward for operator comfort. The (optional) cab is insulated and may be ordered with lights, heater and air conditioning. Door lock is standard.
Built heavier and stronger, with slant track for easy discharge to live deck. Heads and kicker cylinders are hydraulically operated. Heavy duty carriage and bullwheel are hydraulically operated with infinitely variable speeds. Standard bull wheel bearings are bolt-on split type babbitted pillow blocks. Optional Split pillow blocks with replaceable UHMW or babbitt inserts are available.
PERFORMANCE
The Precision Rosserhead Debarker has proven for over a quarter century to be among the most cost effective debarkers made. Reports from customers indicate that with proper care and maintenance, a Precision Debarker will produce clean logs year after year. As the years have passed we have listened to our customers and made changes to improve performance. With six sizes and a range of options, Precision will build a debarker that fulfills your production requirements.
SPECIFICATIONS
| P-636-S | SPECS |
| --- | --- |
| Barking Head | 12" Dia. x 12" Wide [305 mm DIa x 305 mm Wide] |
| Debarker Motor | 30 HP [22 kw] |
| Range Of Log Lengths | 8' to 20' [2.44 m x 6.10 m] |
| Log Passed | 25' [7.62 m] |
| Range Of Log Diameters | 6"-36" [152 mm to 914 mm] |
| Log Kicker Arms | 5 |
| Log Kicker Cylinder Dia. | (1) 3-1/2 " [89 mm] |
| Log Rotation Rolls | 6 sets |
| Rotation Roll Shaft Size | 2-7/16" [62mm] |
| Hydraulic System Motor | 25 HP [19kw] |
| Variable Speed | yes |
| Machine Dim. Width | 6'-11" [2.11 m] |
| Machine Dim. Length | 33'-0" [10.06 m] |
| Machine Dim. Height | 8'-1" [2.46 m] |
| Carriage Overhang | 1'-3" [381 mm] |
| Machine Weight | 12,000 lbs [5,443 kg] |

| P-636-H | SPECS |
| --- | --- |
| Barking Head | 12" Dia. x 12" Wide [305 mm DIa x 305 mm Wide] |
| Debarker Motor | 30 HP [22 kw] |
| Range Of Log Lengths | 8' to 20' [2.44 m x 6.10 m] |
| Log Passed | 25' [7.62 m] |
| Range Of Log Diameters | 6"-36" [152 mm to 914 mm] |
| Log Kicker Arms | 5 |
| Log Kicker Cylinder Dia. | (1) 3-1/2 " [89 mm] |
| Log Rotation Rolls | 6 sets |
| Rotation Roll Shaft Size | 2-15/16" [75 mm] |
| Hydraulic System Motor | 25 HP [19kw] |
| Variable Speed | yes |
| Machine Dim. Width | 6'-11" [2.11 m] |
| Machine Dim. Length | 33'-0" [10.06 m] |
| Machine Dim. Height | 8'-1" [2.46 m] |
| Carriage Overhang | 1'-3" [381 mm] |
| Machine Weight | 12,500 lbs [5,670 kg] |

| P-742-H | SPECS |
| --- | --- |
| Barking Head | 12" Dia. x 12" Wide [305 mm DIa x 305 mm Wide] |
| Debarker Motor | 30 HP [22 kw] |
| Range Of Log Lengths | 8' to 20' [2.44 m x 6.10 m] |
| Log Passed | 25' [7.62 m] |
| Range Of Log Diameters | 7"-42" [178 mm to 1,067 mm] |
| Log Kicker Arms | 5 |
| Log Kicker Cylinder Dia. | (2) 3-1/2 " [89 mm] |
| Log Rotation Rolls | 6 sets |
| Rotation Roll Shaft Size | 3-7/16" [87 mm] |
| Hydraulic System Motor | 25 HP [19kw] |
| Variable Speed | yes |
| Machine Dim. Width | 6'-11" [2.11 m] |
| Machine Dim. Length | 33'-0" [10.06 m] |
| Machine Dim. Height | 8'-1" [2.46 m] |
| Carriage Overhang | 1'-3" [381 mm] |
| Machine Weight | 15,000 lbs [6,804 kg] |

| P-742-XH | SPECS |
| --- | --- |
| Barking Head | 12" Dia. x 12" Wide [305 mm DIa x 305 mm Wide] |
| Debarker Motor | 30 HP [22 kw] |
| Range Of Log Lengths | 8' to 20' [2.44 m x 6.10 m] |
| Log Passed | 25' [7.62 m] |
| Range Of Log Diameters | 7"-42" [178 mm to 1,067 mm] |
| Log Kicker Arms | 5 |
| Log Kicker Cylinder Dia. | (2) 3-1/2 " [89 mm] |
| Log Rotation Rolls | 6 sets |
| Rotation Roll Shaft Size | 3-15/16" [100 mm] |
| Hydraulic System Motor | 25 HP [19kw] |
| Variable Speed | yes |
| Machine Dim. Width | 6'-11" [2.11 m] |
| Machine Dim. Length | 33'-0" [10.06 m] |
| Machine Dim. Height | 8'-1" [2.46 m] |
| Carriage Overhang | 1'-3" [381 mm] |
| Machine Weight | 15,800 lbs [7,167 kg] |

| P-848-S | SPECS |
| --- | --- |
| Barking Head | 15" Dia. x 16" Wide [381 mm DIa x 406 mm Wide] |
| Debarker Motor | 50 HP [37 kw] |
| Range Of Log Lengths | 8' to 20' [2.44 m x 6.10 m] |
| Log Passed | 25' [7.62 m] |
| Range Of Log Diameters | 8"-48" [203 mm to 1,219 mm] |
| Log Kicker Arms | 5 |
| Log Kicker Cylinder Dia. | (2) 3-1/2 " [89 mm] |
| Log Rotation Rolls | 6 sets |
| Rotation Roll Shaft Size | 3-17/16" [87 mm] |
| Hydraulic System Motor | 25 HP [19kw] |
| Variable Speed | yes |
| Machine Dim. Width | 7'-5" [2.26 m] |
| Machine Dim. Length | 35'-0" [10.67 m] |
| Machine Dim. Height | 8'-1" [2.46 m] |
| Carriage Overhang | 1'-3" [381 mm] |
| Machine Weight | 16,400 lbs [7,439 kg] |

| P-848-H | SPECS |
| --- | --- |
| Barking Head | 15" Dia. x 16" Wide [381 mm DIa x 406 mm Wide] |
| Debarker Motor | 50 HP [37 kw] |
| Range Of Log Lengths | 8' to 20' [2.44 m x 6.10 m] |
| Log Passed | 25' [7.62 m] |
| Range Of Log Diameters | 8"-48" [203 mm to 1,219 mm] |
| Log Kicker Arms | 5 |
| Log Kicker Cylinder Dia. | (2) 3-1/2 " [89 mm] |
| Log Rotation Rolls | 6 sets |
| Rotation Roll Shaft Size | 4-17/16" [113 mm] |
| Hydraulic System Motor | 25 HP [19kw] |
| Variable Speed | yes |
| Machine Dim. Width | 7'-5" [2.26 m] |
| Machine Dim. Length | 35'-0" [10.67 m] |
| Machine Dim. Height | 8'-1" [2.46 m] |
| Carriage Overhang | 1'-3" [381 mm] |
| Machine Weight | 17,600 lbs [7,983 kg] |