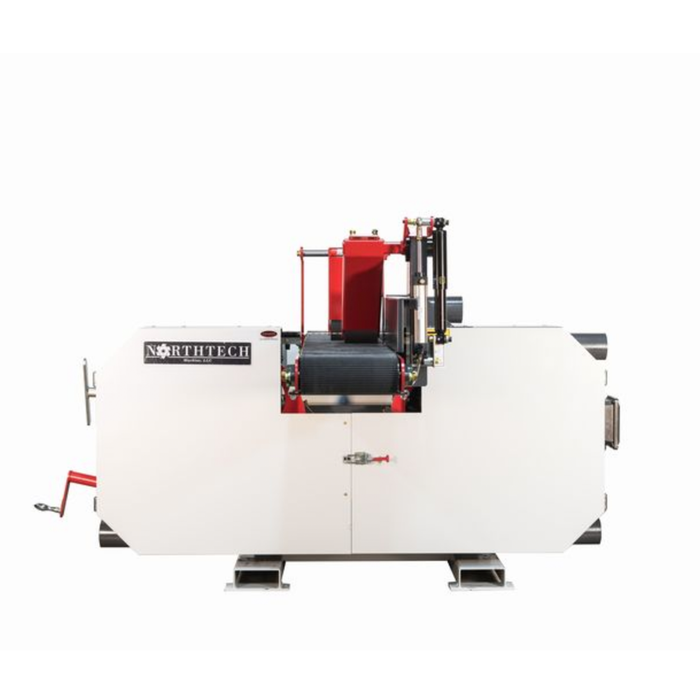 NorthTech Horizontal Bandsaw HBR-12E
SKU
NORTHTECH-H-BANDSAW-NT-HBR-12E
NorthTech Horizontal Bandsaw NT HBR-12E
FEATURES
Maximum working size: 11-3/4" W x 11" H using hold downs
Minimum thickness of part: 3/16"
Maximum cutting height: 11"
70 durometer (L) 216" x (W) 11-1/4"
3 Ply heavy duty industrial grade conveyor for long life
Saw blade size: 1" or 1 ¼" x 168"
Blade speed: 6850fpm
Dual voltage 20HP Baldor motor is UL / CE approved
2HP feed motor
VFD drive control of 0 - 97fpm is mated to a precision gear box drive for optimum power delivery
Frame is constructed of CNC machined steel
1" x 28" special heat treated steel saw wheels, CNC ground, and balanced for vibration-free performance.
(2) Oversized precision bearings on each saw wheel shaft ensure long term cutting accuracy
(4) 4" dust ports requiring 436 CFM at each point of extraction
Precision blade guide system with steel inserts ensures consistent quality of cut.
Outside guide on a spring tensioned lineal rail keeping guide next to each part
Air cylinder tensioned infeed roller with heavy duty spring control.
Adjustable weighted outfeed roller securely holds part to the belt.
Mechanical spring blade tensioning
Electrical controls are neatly arranged into a dust proof cabinet
Manual raise bed
Machine dimensions (LxWxH) / Weight: 109" x 80" x 53" / 1,916lbs
Machine Packing (LxWxH) / Weight: 87" x 46" x 45" / 1,690lbs
Conveyor Table Packing (LxWxH) / Weight: 116" x 28" x 36" / 608lbs
Tool box and (1) year parts warranty included
NorthTech offers a full line of dust collectors for any application.
All machines are tested at our corporate headquarters in Indiana prior to shipment providing trouble free start up.
SPECS
Main Motor Hp. = 20 hp.
Voltage/ Freq. = 208 Volt 60Hz
Phase = 3 Phase
Amp Requirement = 70.3 Amps
Feed Hp. = 2 Hp.
Feed System = 11-1/4'' Rubber Feed Mat
Drive System = 2 Hp. Motor / Gear Box
Feed Speed = 0 - 95 FPM
Variable Speed = Inverter Controlled
Elevation Style = Manual Crank Adjustment
Elevation Sys. = Scirror Lift
Total Hp. = 22 Hp.
Electronics = CE Approved Components
Dual Voltage = 230/460 Volt
Control Voltage = 220V Control Voltage
Operator Panel = Fixed
Pass-Line = 35-3/8''
Cut Envelope = 11-3/4'' W x 11'' H
Min. Length = 12''
Min. Width = 3/4''
Max. Width = 11-3/4''
Min. Thickness = 3/16"
Max. Thickness = 11''
Blade Size = 1'' x 168''
No. of Teeth = 192 Tooth
Tooth Spacing = 7/8''
Blade Kerf = 1mm
Blade Speed = 6850 FPM
Cleaning System = Scraper / Felt Pad
Tracking Style = Manual Adjustment
Tension Style = Manual Adjustment
Vertical Travel = 4-5/8''
Dust Collection = (4) 4'' @ 1744 CFM
Hold Down Style = Pneumatic / Gravity
FLR Included = Filter, Lubricator, Regulator
Recommended CFM = 1/4'' Line @ 90 PSI
Emergency Stop = Push Button
Guarding = Full Cabinet Enclosure
Oiler = Blade Oil Mister
Fence Type = Fixed Fence
Fence Dims. = 6-3/4'' x 34-1/2''
Blade Guide = Bearing Blade Guide
Wheel Dims. = 1'' x 28''
Wheel Construction = Steel Construction
Frame Const. = Steel Construction
Table Const. = Steel
Decible Rating = 75 dB
Net Weight = 1930 Lbs.
Gross Weight = 2298 Lbs.
Machine Dims. = 109'' x 80'' x 53''
Packaging Dims = 2 Skids
ITEM ID: 4559