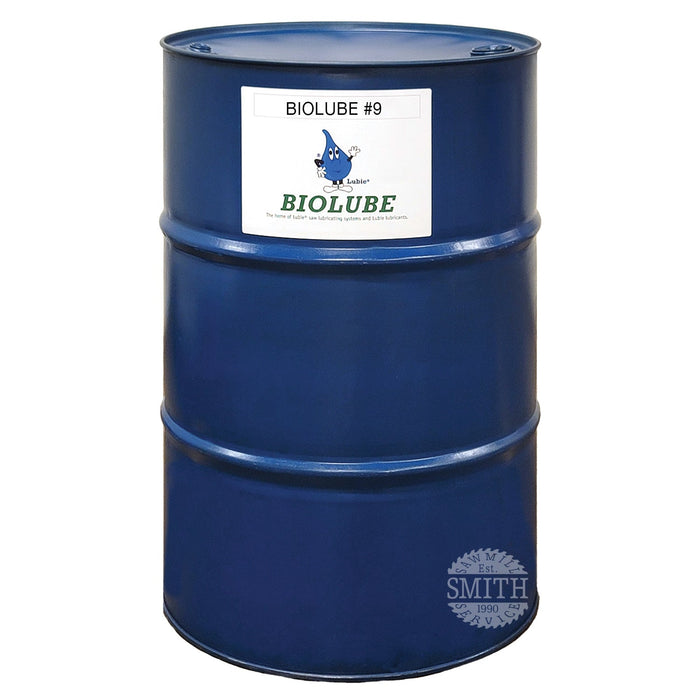 BIOLUBE #9: 55-Gallon Drum
BIOLUBE #9 is an emulsion lube for band saws. High-performance concentrated water-based high-grade synthetic lubricant for both hardwood and softwood sawing. Designed to be diluted with water for the economy. Non-flammable, non-hazardous, environmentally friendly, with a mild pine odor. Ideally suited for heated pallet shops cutting all species.
A concentrated water-based high-grade synthetic lubricant designed to be diluted with water. Lubie® #9 is formulated to provide maximum lubrication on the band and circular saws. Additionally, Biolube Lubie #9 cools and retards resin build-up along with providing outstanding rust and corrosion protection.
Lubie® #9 is commonly used as a high-performance lubricant, coolant, and cleaner on band saws and edgers. When diluted 5:1 to 10:1 with water it provides better cleaning and lubrication than diesel fuel at the same cost per shift and eliminates the fire hazard, odor, personal safety, and environmental problems of diesel fuel. Biolube Lubei #9 does not contain silicones and will not stain or discolor wood.
Band saws find Lubie® #9 is most effectively applied through Biolube spray systems. Biolube #9 can also be used in wick or drip lubrication systems.
Lubie® #9 is non-flammable, non-toxic, and biodegradable. It does not contain any chemicals listed in SARA Title III, Section 313, or in OSHA 29 CFR 1910.
IMPORTANT NOTE: Always add Biolube Lubie #9 to water. 
Best product for your needs of:
Waterbase
Hardwood
Freezable
Dilutable
Wide Band Saws
Narrow Band Saws
Gang Rip Saws
Finger Jointer Bit