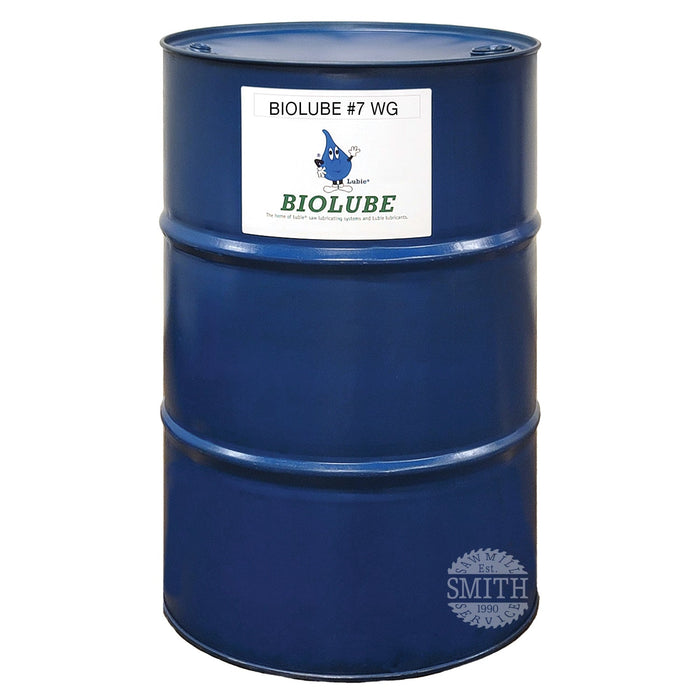 BIOLUBE #7 WG: 55-Gallon Drum
BIOLUBE #7 WG (Winter Lube) Synthetic oil, low viscosity, cold weather formula
A pure low viscosity synthetic oil lubricant designed for unheated shops that need low viscosity at low temperatures. Lubie® #7 WG is designed to lubricate, cool, and retard resin and pitch build-up on the band saw blades, circular saw blades, and another wood tooling.
Lubie® #7 WG provides over twice the lubricating strength of diesel fuel or vegetable oils. Many mills use Lubie #7 WG to lubricate the headrig ways and carriage wheels and rails. Lubie® #7 WG replaces diesel fuel in spray and wick systems on headrigs and line bar resaws.
Mills using about 2 quarts per shift of Lubie #7 WG find the cost less than diesel fuel while eliminating the fire hazard, personal safety, and odor problems of diesel.
Lubie® #7 WG is low cost, odorless, not a skin irritant, nontoxic, biodegradable, and is environmentally friendly. It does not contain any chemicals listed in SARA Title III, Section 313, or in OSHA 29 CFR 1910. #7 does not contain silicones and will not stain or discolor wood.
Lubie® #7 WG is most effectively applied through Biolube spray systems which give the ultimate in application and volume adjustment. Wick, drip, and other spray systems have run #7 effectively.
Best product for your needs of:
Oil base
Hardwood
Wide Band
Narrow Band
Gang Rip
Finger Jointer