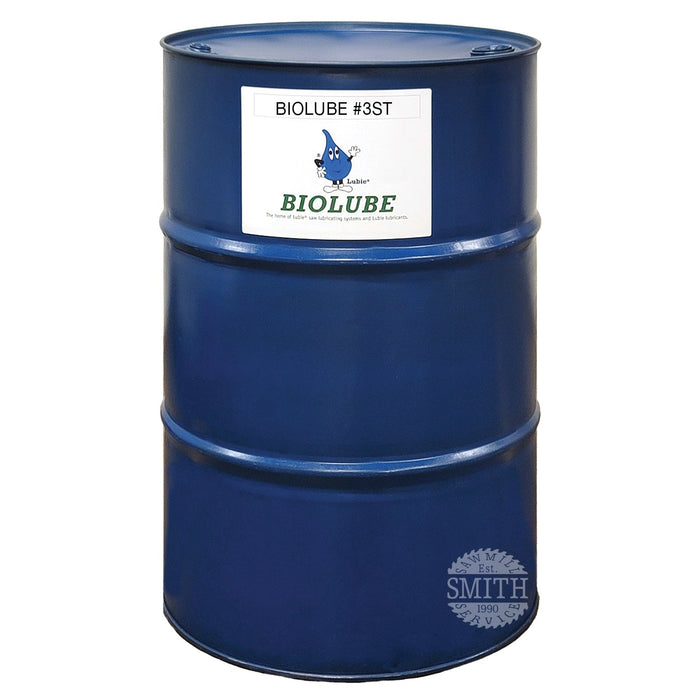 BIOLUBE #3ST Water-Based Synthetic Blend: 55-Gallon Drum
BIOLUBE #3ST is a water-based synthetic blend. Water-based fluoropolymer and synthetic lubricant blend ideal for thin kerf saw blades, molder and finger joint knives. Nonflammable, biodegradable, no silicone, no odor, and no health hazard. Generally used in a spray system.
Customers find Lubie® #3ST to be very effective on all thin kerf circular saws, finger joint knives and moulders knives. Lubie® #3ST is a water based lubricant, cleaner and coolant formulated to prevent heat and pitch build-up on thin kerf tooling. Customers report thin kerf saws do not over heat and distort and that finger joint knives and molder tooling runs longer with less tear-out.
#3ST is non flammable, non toxic and biodegradable.
It does not contain any chemicals listed in SARA Title III, Section 313 or in OSHA 29 CFR 1910.
#3ST does not contain silicones and will not stain or discolor wood.
Lubie® #3ST is most effectively applied undiluted through Biolube's Lubie® spray systems, which give the ultimate in application and volume adjustment. Other spray systems have also run #3ST effectively.
Best product for your needs of:
Waterbase
Hardwood
Softwood
Freezable
Dilutable
Gang Rip
Finger Jointer
BIOLUBE Lubie #3ST Technical Data